How to Spring Clean Your Off-Campus Home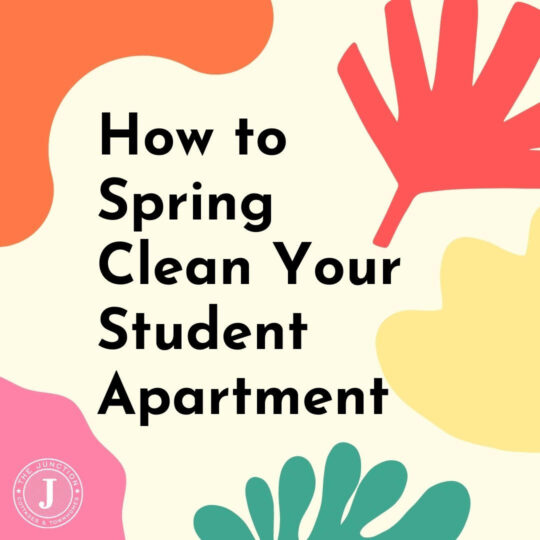 As spring inches ever closer, now is a good time to take a look around your off-campus home here at Junction Cottages & Townhomes and consider spring cleaning. In fact, this spring might be the most important spring to do such a big clean in. That's because, after the long days spent indoors due to the lockdown restrictions and then the insanity of the winter storm, your apartment's interior is apt to be looking a bit ragged. A good spring clean is all about cleaning the dust balls from the corners and getting rid of stuffy scents. It's about getting rid of that excess clutter and tackling problem areas in your home. When you're done, you'll be left with a clean off-campus apartment that looks great, smells great, and feels great. Collaborating with your housemates on this can also bring about some needed goodwill. Particularly after a long winter and during a bustling series of exams.
But while there are plenty of great benefits of a deep spring clean (health benefits from less dust and airborne contaminants and mental benefits from a clutter-free space), knowing where to start can be rough. Here's a quick look at our favorite tips for getting a good spring clean kicked off without a hitch:
How to Spring Clean Your Off-Campus Home for Best Effects
1. Linens first and last
Grab together all of the linens from your apartment. Really, everything. Towels, sheets, couch covers, rags, and any rugs that can be thrown into a laundry machine. Taking all of these linens off of items and out of your living room now will give you easier access to hard-to-reach areas and when you're done with cleaning, you'll enjoy placing clean linen on clean floors, beds, and other items.
We recommend taking all of the linens and putting them in a vehicle or somewhere out of the apartment while you clean. Then, when you're done with indoor cleaning, go to the laundromat to do a big run of all the lines. You might also eave them with a laundering service to complete while you and your mates do the big spring clean. This doesn't cost too much and picking up freshly washed and folded linens can be a nice reward after a long day of cleaning.
2. Remove all of the clutter
Cleaning with roommates can feel tricky if everyone's not on the same page. The best way to counteract this is by giving notice, two weeks, a week, and then a day before the big spring clean to any roommate not interested in helping. Then, on the day of cleaning, keep your energy up and spirits good by targeting personal clutter first. You don't have to put away all of your roommates' things, but you should put everything that's on the ground, couch, tables, etc. into the room (or in front of it) where it belongs.
If you have roommates that are fully onboard with a big spring clean, then this task gets a lot easier. Everyone should go around to all of the public areas, take their personal things, and put them on their bed to put away later. Getting the clutter out of the public areas first is a good morale boost and makes attacking the rest more amiable.
3. Organize the fridge and cupboards while getting rid of old food
Old food gets gross. Old crusty food that hasn't been touched in weeks or even months is grosser still. Yet, if you don't clean it out now, who will? Use a spring clean as a good excuse to completely clean out and organize your refrigerator. Take everything out and throw away anything that has hit its expiration date (and then some). Then, use a commercial cleaner or make you own (1 cup ammonia, ½ cup vinegar, and ¼ cup baking soda mixed with a gallon of hot water) to wash out the inside of the apartment fridge and freezer.
Repeat all of the above with any food cupboards and pantry areas.
4. Dust surfaces from the top down and outside in
Dusting is a really important step to a spring clean as winter is a time when most students at our off-campus housing aren't using central air and heat. This means that you're not running the integrated filtration system and as such are stuck with a lot more dust and dirt collecting on surfaces. Simple paper towel and all-purpose cleaner will be fine for this task. What's most important is starting at the highest points, ie ceiling fans and wall art, and working down and out the rooms.
5. Final surfaces and flooring clean and vacuum
Finally, it's time for the big spring cleaning run. Start with wiping down all hard surfaces and mopping any hard flooring. Then, finish with a vacuum of the whole apartment.
Want Experienced Cleaning Help? Talk to Our Front Staff
If you think your spring clean needs a more professional hand or is a bigger job than you're willing to tackle during exams, then you can always hire a cleaning service. In fact, many area cleaning services come quite affordable, especially when you pitch in with your roommates. Contact our front desk at the Junction Cottages & Townhomes for a list of recommendations.