Getting Your Daily Dose of Vitamin D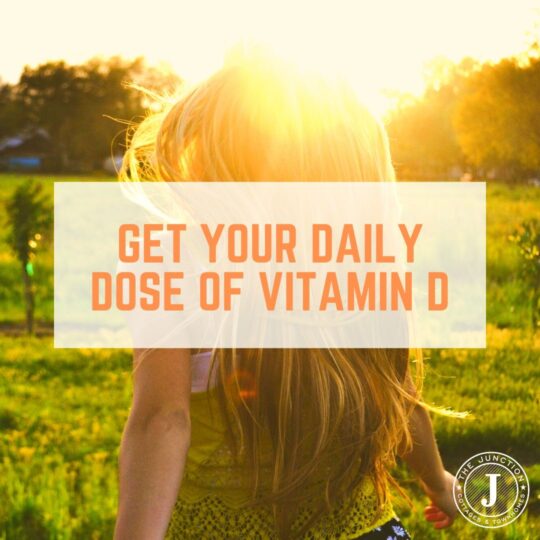 As to be expected, the coronavirus pandemic elicited a lot of scientific studies. Researchers and scientists the world over have studied everything from how the virus spread to how to treat it. One such avenue of research done by the Department of Homeland Security indicated that coronavirus seemed to be weakened by exposure heat, humidity, and sunlight. Now, that doesn't mean that a person could be "cured" by going outside in the American South. But the Department of Homeland Security research and other research on this topic does suggest two important things. First, those with a vitamin D deficiency are likely to have a more severe form of coronavirus should they become infected. Secondly, the coronavirus appears to die within minutes when it lands on an outside surface exposed to sunlight. This seems also to occur when it lingers in the air where there is direct sunlight with high humidity.
So, if you're concerned about catching and getting sick from Covid-19, one thing to consider this summer is social distancing in a sunny park. You could bring a book, your Switch and favorite games, or some yarn and craft with your roommate or coworker. When you expose your skin to the sun, cholesterol in your skin makes vitamin D. This is why vitamin D often gets called the "sunshine vitamin". Note that, as with all things, sun exposure should be done in moderation.
In addition to its Covid-19 fighting prowess, vitamin D has been shown to fight many other types of diseases. This includes decreasing one's risks for serious medical issues like heart disease and multiple sclerosis. More vitamin D also equates to better moods due to studies showing that vitamin D both helps ward of depression and helps reduce the severity of depression and anxiety in those with it. Finally, multiple studies now have shown that sun exposure and vitamin D supplements help promote weight loss. The sun is truly a magical thing.
Where to Go for Your Daily Dose of Vitamin D in College Station
John Crompton Park
Located at 201 West Holleman Dr., John Crompton Park is a convenient 20-minute walk from your home at Junction Cottages and Townhomes. This city park boasts a large picnic pavilion, basketball courts, and several trails meandering through the park's landscaping and around a central pond. The grounds are well kept and there are plenty of grassy knolls here where you can set-up and enjoy your sunny social distancing activities.
Bee Creek Park
Situated about three miles away, Bee Creek Park is just a quick bide ride away from the Junction. Bee Creek Park is most well-known for locals as being very family-friendly thanks to its two playgrounds and kid-focused waterpark. However, swing sets aren't the only thing going on here. As its name suggests, this park runs alongside the babbling Bee Creek. This creek offers a lot of picturesque sitting and hanging out spots. You'll also find some fantastic nature trails meandering throughout this park's 15 square miles. So if you're looking to do a little biking, a little walking, and a little enjoying the scenery, then certainly head here.
Texas A&M University Research Park
Also a short 3-mile bike ride away, this park has both nature and activities to offer. First off, as with the John Crompton Park and Bee Creek Park, the Texas A&M University Research Park has plenty of outstanding picnic, crafting, and reading spots with beautifully landscaped backdrops. There's even a waterfall! However, what is likely to really make you choose this park over others for your vitamin D dosing is its 18-hole disc golf course.
Arguably, there is no greater social distancing activity than disc golf. That's because with disc golf, you stay well away from other players, you own your own equipment and can readily sanitize it when necessary, and it offers all the aforementioned benefits of being outdoors and in the sun. Never played disc golf before? You can purchase a starter disc golf set for under $10 at a local sporting goods or general store.
Lake Somerville State Park & Trailway
If you're looking for an escape from town and a greater outdoors feel, then consider a drive to Lake Somerville State Park & Trailway. This state park is about a 40-minute drive away and consists of two unique park areas. Those parks are Nails Creek and Birch Creek and are connected by a 13-mile trail perfect for bikers and hikers. Each of the separate parks offers a mix of boating, hiking, camping, and other recreational activities like volleyball and basketball. Note, however, that camping is the one activity that has been closed until further notice due to coronavirus.
Go Out & Be Safe
The nation's best scientists and pandemic experts expect that we'll be dealing with coronavirus for at least the next year. Thus, now is the time to adapt and change our habits to ones that keep us healthy and safe. Making time to enjoy a bit of sunlight with the right social distancing protocols is one such great habit. Plus, you can start practicing today! If you don't have time to walk, bike, or drive to one of the above parks, then take advantage of all the outdoor sitting areas and gathering spaces we have right here at the Junction Cottages & Townhomes.