Cool Off at These Great Swimming Holes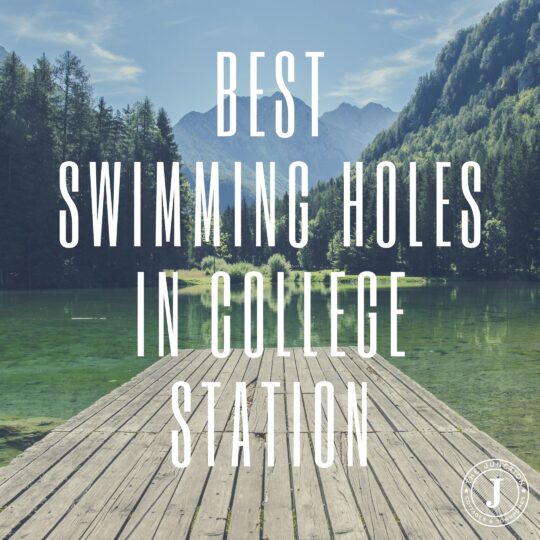 This summer has been brutally hot and really, it's just beginning. Now is the time to go outside and cool off while still practicing safe social distancing. And what better way to do that than to take a swim? While we are excited to offer a fantastic swimming pool here at Junction Station Cottages & Townhomes, sometimes you want something more. Something that offers a new backdrop to experience with friends. The following is a look at several fantastic swimming holes close College Station area or just beyond. Just remember that no matter where you go, you should always be respectful and be safe by following health recommendations.
5 Great Swimming Holes to Cool Off In and Near College Station
Lake Bryan. Lake Bryan is located just minutes from your home at the Junction Cottages & Townhomes. It's renown for offering a great array of water-based activities as well as other activities. You'll find a boat ramp on site where you can rent paddleboards and kayaks and launch them or your own. Both kayaking and paddleboarding are wonderful activities that will get you active and away from the crowd. If you prefer less active water sports and more sun-bating versions, grab a towel and a picnic basket and relax at the lake's sandy beach. In addition to its lake-based activities, Lake Bryan offers miles of hiking and biking trails, campsites, and regular concerts.
Lake Conroe. If Lake Bryan is to small and busy for you, then head east towards Lake Conroe. Lake Conroe is a gorgeous lake with incredible fishing opportunities that lies largely within the Sam Houston National Forest. As with Lake Bryan, you'll find both beaches and a public dock here as well as miles upon miles of hiking and biking trails. There are even some trails that lead to secluded primitive campsites for those looking for a longer weekend. No boat? No problem! Check out North Lake Conroe Paddling Company. This boat rental company does and has it all, including fishing kayaks, touring kayaks, and self-guided touring tips. The guide tips make it easy to find camps and beaches to kayak to and enjoy.
Colorado River. Maybe paddling isn't quite your thing? Maybe instead of working out, you'd rather sit back and enjoy, letting the water do the work? If so then tubing ought to be your new favorite water activity. River tubing is a fantastic way to spend a lazy Saturday or, if you schedule your classes right, Wednesday humpday. You don't even have to drive all that far to enjoy it. Just a bit to the west, you'll find ATXCursions which is a 5-star tube outfitter for the Colorado River. This outstanding outfitter provides the coolers, tubes, ice, and full-on round-trip transportation to the Colorado River or other river of your choice. They'll drop you off and pick you up, all you have to do is enjoy a real-life trip down a lazy river where you and your friends can enjoy plenty of sun and swimming.
Hippie Hollow Park. Located just a touch northwest of Austin, Hippie Hollow Park truly is a one-of-a-kind place. In fact, if you're looking for a place to really get a full tan on, then you won't find anywhere better. In fact, you won't find any other public place at all. That's because Hippie Hollow Park (previously McGregor County Park) is the only legally recognized clothing-optional public park in Texas. The park overlooks a dammed-up portion of the Colorado River and is renowned for its fun and freeing atmosphere. Note that you will want to bring some sturdy shoes (at least until you get to your spot) as the park sits atop a steep slope comprised of varying limestone steps and levels.
University Park Dog Park. Okay, this swimming spot is for dogs only, but it's certainly worth a visit if you have a pup! The University Park Dog Park is conveniently located right here in College Station and just a few blocks from your home at the Junction Cottages & Townhomes. Just over four acres of the park are open specifically for dogs to play and exercise off-leash. Within those acres, you'll find several ponds ideal for swimming and splashing about.
Plenty of Water Fun to Enjoy Near and Far
Again, of course, don't forget that you have your own wonderful swimming spot right here at your home of the Junction Cottages & Townhomes. Our pool is open to you and all of your guests throughout the summer. If you have any questions about the pool and other amenities at Junction Cottages & Townhomes, know that our team is here to answer them. And for those days when you want to get away, we hope this list of fantastic swimming locations near and far will help you find that perfect water-based getaway.