Myths About Moving to a College Apartment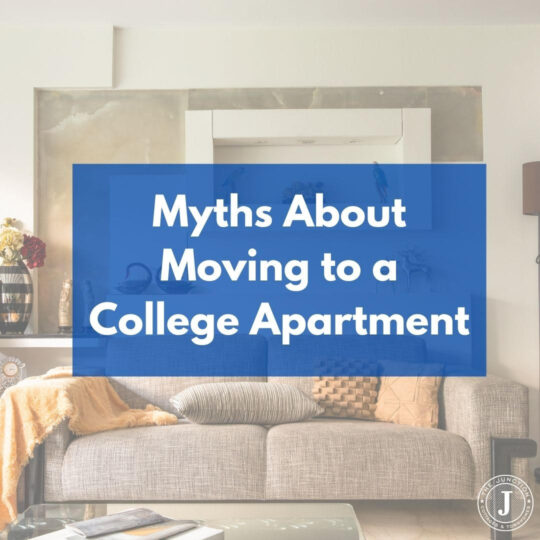 Are you packing up your bags for the big move-in? If so, then our friendly team at the Junction Cottages & Townhome is excited to welcome you! Our college apartments campus strives to make move-in easy and stressfree, so that you can quickly get down to starting your new life here in College Station.
One way of doing we can help is to give you a more accurate idea of what to expect moving. There are, after all, a lot of lingering myths out there. Myths or ideas about what one should or shouldn't expect about their moving into a new college apartment. Consider the following myth-busted ideas about moving to a college apartment:
MYTH: "You won't have any privacy; it will be a nightmare!"
Okay, so this one was once (and maybe still is in some places) sort of true. Where this myth really comes from are places that had the old college, one-room dormitory spaces in which two or three people were stuffed into a room the size of a large kitchen. In this style dorm cubby, bunkbeds were mere feet from each other and that bedroom served also as the living room, dining room, and even kitchen. Easy then to understand why many did find the lifestyle claustrophobic and invasive.
The good news is that style of housing is rare — even in dorms. Most colleges have revamped such style of living to give students a bit more room to breathes. In any case, that is most assuredly not the type of living arrangement you will have when living at the Junction Cottages and Townhomes.
Here at the Junction Cottages and Townhomes, you get your own private bedroom with a private bathroom. Yes, that's right, no sharing even a bathroom with someone else. Our floorplans also include a spacious shared living room, kitchen, and generally a porch. The result is an open living plan that still allows residents more than enough privacy. You have doors you can shut when you need some quiet time, and you won't ever have to worry about somebody taking too long in the bathroom.
MYTH: "You will either be immediate friends or immediate enemies with your roommates."
Living with other people can and is daunting. While there are certainly some chill and some gregarious personalities that get along swimmingly with just about anyone, this isn't the case for most. Here at the Junction Cottages and Townhomes we try to make the process of moving in and living with someone easier in two ways.
First, we welcome friends to apply for housing together, that way you know the person who you are moving in with. Although, you may find living with someone is different than being best friends with them. That said, moving in with friends does help with the whole process of moving away from home while still bringing part of a home with you.
If you don't have friends or roommates in mind, then we also have something that can help. We offer both a virtual and physical roommate matching service. You'll simply give us your information and make a profile and then you can meet others to get an idea of whom would be good roommates with you. We also have profiles of people who need roommates up in our leasing office if you're available to stop by during your walk-through.
Once you have your roommates squared away, the next step is, well, being roommates. In most cases, even when you move with friends, awkward moments happen. Especially in the first days, weeks, and months as everyone settles in. Everyone has different routines and different ways of doing even simple tasks. Best friendship is not a must out of roommates, and neither is sworn enemies. Embrace the awkwardness and awkward conversations. Don't feel shy about saying something bothers you and don't go on the offense when your roommate says something bothers them.
Learn More About Moving into Your Junction Cottages & Townhomes Apartment
These two myths are certainly the biggest myths on moving into a first college apartment, but they certainly are not the only ones. Another common one is people thinking they need to bring everything on that first big move-in day. In fact, because our apartments can come fully furnished, we recommend only bringing only the basics and some extras your first couple of weeks. After your initial two weeks, you'll have a better grasp on what you need and what you don't. And you'll know what big items, such as kitchen extras, your other roommates already have. Win-win!
Have any other questions about moving into your first apartment? Our team is here to help! Contact our leasing office today to learn more about our floor plans, roommate set-ups, and scheduling your big move-in day.