Bookbinding for Beginners: How to Create Your Own Journal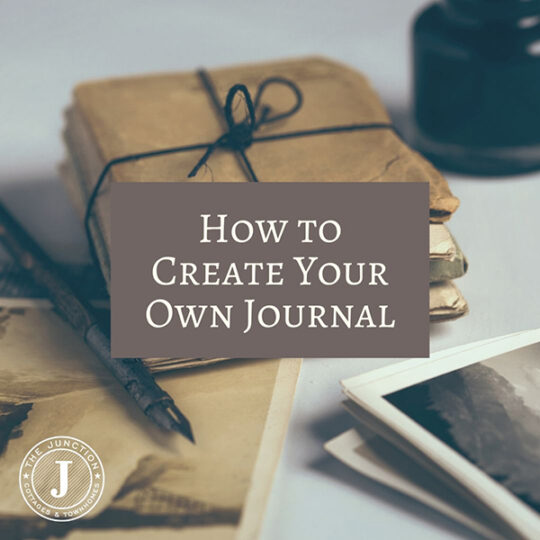 The coronavirus outbreak required us to stay home and stay away from the friends and extended family members. That obviously meant a lot of time alone or hanging out with a roommate, partner, or immediate family member. The upside of this extra solitary time is room for crafting, a lot of crafting. One type of project that will never go out of style and will always create something that's functional, that looks great, and that you can either give or sell (after some solid practice) is bookbinding.
Bookbinding is an art form that has been around for centuries. The type of binding that's going to be detailed below is called Coptic binding and has a history that stretches back to ancient Egypt. Coptic binding employes a special series of looping stitches that bind pages and covers together to create a solid book. You can use this technique to create your own journal or art notebook. Or if you're bored looking to make some arts and crafts side hustle (or keep your birthday and holiday costs low), then you may also find success in creating unique versions to sell online or at your local arts market.
Bookbinding for Beginners: How to Create Your Own Journal or Art Notebook
Paper & Covers
What is a book without pages? To create a book, you will need plenty of paper and two covers. For some, this part of the process might be the best part.
For the covers, you can either go the simple route and tear off the front and back covers of a thrift store book, such as a beaten-up hardcover of Nancy Drew, or you can use two thick pieces of cut cardboard from your local hobby supply store. In either case, the idea here is to get crafty. Paint your covers or spend some time sifting through magazines to cut out words and images that you can layer together and seal with Mod Podge. What you're looking to do here is create something like this, only on your cardboard or old upcycled covers. Another way to decorate your covers is by using old-fashioned book cloth to wrap and glue over the cardboard.
While you're waiting for your covers to dry, you can assemble the pages. For your first Coptic-bound notebook, aim to have around 80 unique pieces of paper. You should avoid having just plain white paper unless you really like things unform. Instead, grab a couple of sheets of yellow lined paper, tracing paper, thick art paper, colored paper, and other odd pieces.
Each piece will eventually be folded so use a cutting board or scissors to cut them in order to fit between your covers. A good rule of thumb is to double and then subtract one for each side. For example, if your covers are each 8 x 5 inches, cut your paper 15 x 9 inches. Divide your pages into stacks of 8 and fold each stack together. These are called signatures.
The Art of Coptic Binding
For the next step, you'll need a ruler, pencil, waxed thread, an awl, and a heavy-duty needle (a curved one works best).
Take your ruler and mark with the pencil an even series of holes down the left side of your front cover. Space the holes about an inch apart from each other and a centimeter away from the edge of the side. Repeat this step with your back cover, but on the opposite side. Remember, this is what you will want your book to eventually look like. Then, take your signatures and mark off the same holes. Now, use your awl to punch holes where you've made the markings. If you've done this right, you should be able to stack the signatures between your covers and have the holes match-up.
Finally, you're ready for the sewing part! The Coptic stitch will take some practice to get right, so don't get frustrated too early! Practice makes perfect with this one — and it is worth practicing. The Coptic bookbinding technique is the most popular among DIY bookbinders because of its durability and because once you've finished, you'll be able to lay your notebook flat or even flip it a full 360 degrees — making it ideal for heavy journaling and artwork.
That said, the Coptic stitch can be hard to describe. Check out this fantastic diagram and step-by-step tutorial or follow this YouTube tutorial.
Have Fun and Stay Crafty
Knowing how to make your own journal or art notebook is an incredibly useful skill. It is one of those skills that enable you to create something that is both beautiful and personal to your own design and something that you can use every day. Once you get to the Coptic stitch part, you can do this anywhere you want. For example, maybe get out and get some fresh air at one of our outdoor gathering areas. Or, if you're still in lockdown, stay in your Junction apartment, and stream your favorite film.